Newsroom
Prudential Laos Launches PRUBusiness
for Small and Medium Enterprises to Support Employees' Wellbeing
"Providing financial security with flexible coverage to suit different company's needs"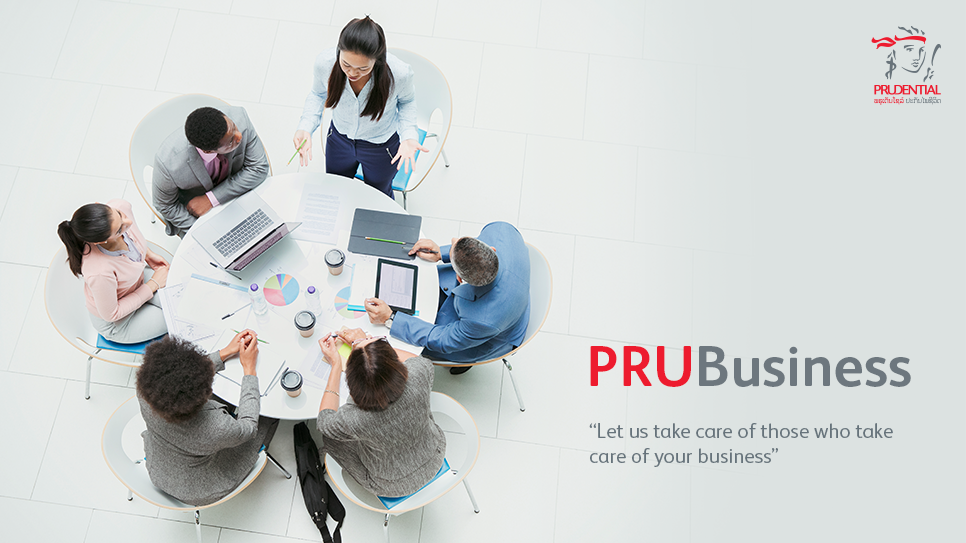 Vientiane Capital 02 March 2022
Prudential Life Assurance (Lao) Company Limited ("Prudential Laos"), today announced the launch of the PRUBusiness product, a new group insurance protection solution that provides small and medium enterprises (SMEs) with a range of customizable benefits, including coverage against death and disability for their staff. This product is designed to protect SMEs and their employees with protection benefits and coverage levels that best fit their budget and needs.
In times of uncertainty, employers seek more flexible protection benefits to provide a happier and healthier workplace for their employees. A comprehensive employee benefit plan can ease employees' burden in case of unexpected events. With PRUBusiness' accident and medical reimbursement rider benefits could be added as part of their policies as an extensive and flexible option.
Business owners who wishes to know more about the product can now access PRUBusiness information and submit their queries directly to the official portal www.prudential.la. Business owners can easily manage their employee's policy information and benefits through the PRUBusiness platform which will be launch later this month. This innovative solution will serve as an easy support and claims to their employees.
Veejay Madhavan, Chief Executive Office of Prudential Laos said, "We have been working closely with our community to provide protection solutions to our SME customers, the backbone of the Lao economy. PRUBusiness is our dedicated solution for easing the financial burdens on SME employees in time of need, especially amid the on-going pandemic."
Terms and conditions for PRUBusiness
The launch of PRUBusiness is aligned with the company's purpose to help people get the most out of life by making health and financial security more affordable and accessible for everyone in Laos. PRUBusiness will be available to SMEs at these distribution channels: Acleda Bank Lao (ABL), Banque Franco Lao (BFL), Maruhan Japan Bank Lao (MJBL), Prudential Laos' broker partners and financial consultant.
About Prudential Laos
Prudential Laos is a wholly owned subsidiary of Prudential plc. Prudential Laos opened its representative office in Vientiane in March 2015 and received its operating license from The Ministry of Finance in April 2016. Prudential Laos began business in May 2016 and offers life and health insurance products that meet the protection and savings needs of the Lao people. Currently Prudential Laos distributes products and services through the network of reputable bank partners, direct sales force as well as its mobile application – Pulse by Prudential.
Please visit www.prudential.la for more details on Prudential Laos.